Free to Create Art Retreat

at Janice's Diamonds on the Lake Studio/Gallery in White Plains, Georgia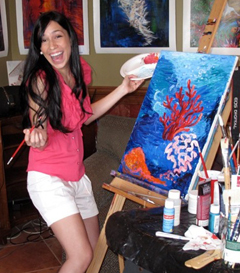 Four days and three nights of breakthrough creativity, art instruction, and lots of fun!


The art retreat at Janice's Diamonds on the Lake studio/gallery is her most personal event. During this four-day and three-night retreat on beautiful Lake Oconee near Atlanta, Georgia, Janice invests one-on-one with participants to help them overcome obstacles to their creativity, experience breakthroughs in their art, and learn to expect the unexpected in their creative journey.

The Free to Create Art Retreat is a unique and intimate setting for beginning, intermediate, and advanced artists desiring to take their art to another level of creative and prophetic expression. It's also for those who are looking for the freedom and faith to venture into realms of wonderment, joyfulness and playfulness in their artistic voice.

As a group, the artists receive instruction on technique in acrylic painting and other mediums, composition, texture, color mixing and mediums to enhance their pieces. Every session is tailored for the needs and desires of the participants and every artist receives personal impartation and critiquing with Janice. The peaceful setting and first class hospitality, food and accommodations enhance this prophetic art experience.




WHAT RETREAT PARTICIPANTS ARE SAYING


"I feel like Janice gave me this amazing package of assorted variety of flower seeds and I have gone home and I've planted them. I've mended and taken care of them and this is just blossoming."

"I was able to receive more breakthrough and instruction in one weekend than I could push through on my own in one year! Janice is a gifted artist, instructor, and prayer warrior!"

"The creative atmosphere I sensed when I walked through the door was awesome! It awakened all my senses to the possibilities of what I could create on canvas."

"Janice is truly equipped to equip you to produce living art and spark that in you."

"This has been the most refreshing spiritual renewal I have ever had."



Frequently Asked Questions


Q: I am a total art newbie. Is this retreat a good place for me to start?
A: Absolutely! Many of my retreats have both beginner and experienced artists. Everyone, regardless of level, always receives far more than they even expected artistically and spiritually.

Q: Do I bring my own supplies?
A: Yes. When you register you will receive a suggested supply list which many artists already have.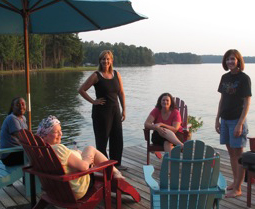 Q: I understand you teach with acrylics. Can I explore another medium at the retreat?
A: Yes. You may bring supplies for your particular medium. Acrylics happen to work well for the prophetic activation.

Q: What happens if the retreat is cancelled?
A: I reserve the right to cancel any retreat that has not attained the minimum number of registrations. If such a cancellation becomes necessary, I will notify you no later than 30 days before the retreat is scheduled to begin. I highly recommend that you do not book air travel before this cancellation date as I will not be liable for the cost of your airfare if the retreat is cancelled. If I must cancel a retreat, you will be given the opportunity to transfer to another retreat or opt for a full refund.