Releasing the Art & Creativity of Heaven Workshops

A two-hour, hands-on art and prophetic activation session for churches and groups of any size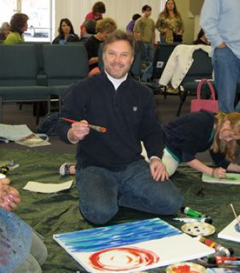 "The workshop won me over to the impact of prophetic art because I saw what inexperienced artists with a lot of desire could achieve."
-church leader

Janice leads two-hour Releasing the Art and Creativity of Heaven workshops where participants begin to overcome obstacles to their creativity and experience significant breakthroughs in their art media. For many, this is the starting point of leaving their fears and inhibitions behind and learning to express their dreams, visions, and heart message in an artistic format that impacts the world around them.

All levels of artists are invited to this time of teaching, sharing, demonstrating, and "going for it." It is an ideal setting for participants with no experience to "get their feet wet" as well as for experienced artists desiring to move into new realms of their prophetic anointing using their developed talent and skill.

The first part of the workshop helps participants understand what creativity is as their inheritance from God and what some of the obstacles to artistic expression are, such as fear of man, lack of faith, procrastination, and perfectionism, to name only a few. The second half allows participants to begin to draw and paint, typically using soft pastels, oil pastels, or watercolors.

Janice's heart is that each participant leave creatively regenerated and activated through her encouraging and impartation gifts.




CONTACT JANICE To schedule a workshop for your church, organization, or group.