Releasing the Art & Creativity of Heaven with Janice VanCronkhite
Mentoring, Retreats, Workshops and Conferences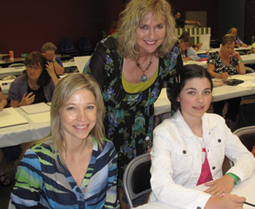 Janice has been portrayed as an artist, a "prophetic" artist, a communicator through words and colors, a teacher with wisdom and favor, a caring mentor, and an imparter of the creativity of heaven. She believes every person is created to carry artistic expressions of God's creativity. Janice desires to invest in individuals helping them overcome obstacles hindering their creative expressions and furthering their unique ability to release what God has placed within their spirits.

To do so, Janice has created opportunities and locations for working with you. She gives of herself at several levels through her "Releasing the Art & Creativity of Heaven" (REACH) gatherings to meet your specific hunger and investment of time and resources to grow in creativity.

Janice invites you to find your entry place, whether at one of her conference settings where she imparts alongside name speakers and hosts, or in a two-hour workshop setting where she can spend more time with brief art instruction for up to 50 or more. For those of you desiring a more in-depth artistic experience and personal setting,

Janice offers several retreats throughout the year in the Blue Ridge Mountains of North Carolina with up to 21 participants. She has designed the most intimate of all her gatherings at her Georgia studio/residence on beautiful Lake Oconee for a small number of no more than eight.